Sharing the Power
Leading social-impact organizations requires a type of leadership that puts other first.  There are many types of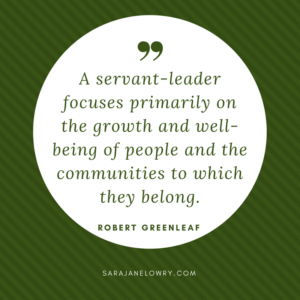 leadership one can choose in our world today. Certain types
are touted by
business as 'peak-performing' or 'results-oriented'. But social-impact organizations need a different leadership style. Often, those differences in styles create conflict between the executive director and the board.
"Do those served grow as persons

?"

"Do they, while

being served

, become healthier, wiser, freer, more autonomous, more likely themselves to become servants

?"
"And, what is the effect on the least privileged in society? Will they benefit or at least not be further deprived?"
A servant-leader focuses primarily on the growth and well-being of people and the communities to which they belong.
Stephen Covey added that leaders need to build relationships of trust, set up win-win performance agreements; and be a source of help.  
Servant-Leaders are those who see their job as serving their staff/board team rather than the other way around.
Servant Leaders are people-focused first – and see staff, clients, donors, stakeholders as who they serve
.  Here's how that works in your roles:
Board Chairs

serve members best by inviting them to aim high, invoking their passion and best thinking

.

Board members join to follow a calling to serve. They want to bring their strengths, time and talent to serving the community

.

They carry external experiences, passion, and networks that contain gems of engagement and wisdom

.

Thus, Board chairs create an environment of respect, shared accountability, and foster creative discussions where members feel engaged and useful

.
Executive Directors

 make their team feel that they care about them by putting them first.

Since staff tend to put their clients and donors first, they tend to overextend themselves

. And since staff are on the front lines of service, they often have good ideas on how to best serve.  Servant-leaders appreciate the diversity of their staff and board.

They allow for the diversity of strengths to manifest through creative approaches to challenges

.
Servant-leaders hold a level of respect, patience and time-giving.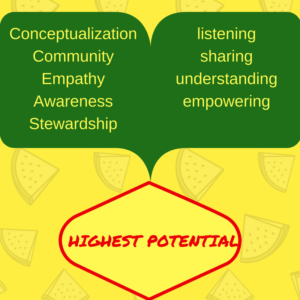 As a servant leader, you express care and concern for staff and board members. You show empathy for their challenges. Together, you explore ideas which foster a feeling of bonding, belonging, and ownership of the mission of the organization. Servant leadership leads to participatory decision making but only if trust is present.
Trust comes when people encourage each other to share dissenting opinions. Conflict helps uncover best possible strategies.  It also can boost your team's morale by allowing them to take part in reaching a consensus on decisions and goals. Their opinions and voices feel heard, which will help them buy into changes easier. It creates an environment where fresh ideas or new perspectives allow the organization to pivot. And, it requires skills like listening, sharing, understanding and empowering.
The Golden Rule

This is particularly important in times of stress.
Stress is a common in nonprofits struggling with resource flow, and limited human capacity
. 
So, in servant leadership, you practice the Golden Rule — you lead and manage other people the way you would like to
be led
and managed
.
You ensure everyone understands their job or board role
fully.
 You offer learning, training, and improvement opportunities
.
When possible, you discuss capacity initiatives as part of the organization's growth plan
.
This is especially important as an idea of stewardship–yes for donors, but also for your board and staff.
Servant leadership elicits peak performance because participation, ideas, and feedback keeps you focused on what
really
matters – the people
. It's a leadership style that builds a strong culture since it builds respect, trust, and loyalty. This builds optimal responses to the highest possible outcomes for all.