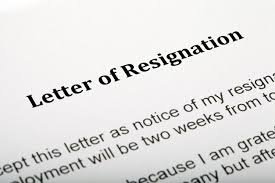 When the executive director resigns, its usually a surprise. Every board president dreads the day when their beloved executive director hands them a resignation letter, right?  Especially when you feel the organization is just hitting its stride, the rapport between the board and ED is strong, staff are staying in positions, and funders are engaged in your projects.
I've been there on both sides of the table: the one resigning, and the one receiving the letter. And I'm currently working with an organization going through exactly this scenario. While everyone is happy for the person leaving and the new opportunities that await, we have to admit that it hurts. When the good executive director resigns, it's almost always a gift to the organization.
Yep, I said it. Resignations are a gift.
Resignations create a unique opportunity to evaluate where your organization is and its current needs, and if necessary, to redesign the position based on the needs of the team and organization it is today, not 2, 5, or 10 years ago.  Within every resignation is a hidden opportunity for massive growth, but only if we pause long enough to seize the opportunity.
When your executive director resigns, here are 5 questions to turn a resignation into a powerful transformation:
How is the marketplace today different than when your executive director was hired?
Who you hired years ago was based on the organization's needs and goals then. The person leaving might have had certain skills that were appropriate then. There have likely been many changes in the organization or in the funding community or community needs that have (or should have) had a big effect on what you need now. How much financial flexibility does your organization have?
Are there new trends? Policy changes? Possible collaborations or mergers? Reassess and reevaluate how the changes in mission and funding has shaped the current needs of your organization. What are the best practices in your field? Where are your opportunities to innovate? What new skills do you need to add to the organization to successfully serve?
Where is the organization in its lifecycle?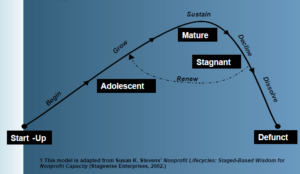 Are you a new organization? Mature? In decline? The important question to ask here is: to what extent is your organization consistently delivering high quality programs? Keep that in mind as you think about filling the position. You need a new team member who can help you based on where you are TODAY…not where you were years ago. (Does your job description need a major overhaul?)
Is your board a peak-performing board?
If not, the resignation of your executive director can be overwhelming and stressful. Do you already have a strong strategic focus in board meetings? Do your board meetings spend a big chunk of time on strategy? Does it have a dashboard for measuring what's working? If not, the board can change its culture by refocusing its attention there. Also, a peak performing board generally has performance goals for itself, including self-assessments. They provide many opportunities for building the skills, mission knowledge, and improved performance process should always rest in the board itself, not in staff or consultants. When your executive director resigns, boards often find new strength in their ability to lead.
What does the organization need as its next stretch?
You want someone who's going to stretch you and the organization and take you to the next level. Your new hire should help you grow, not keep you stagnant. Develop a profile for what you need next in terms of skills and competencies to elevate your organization.
Should you reallocate funds to meet a different need?
Someone leaving creates a budget opportunity. In fact, it's an opportunity to look at all your senior positions. Do you need to pursue funding to support getting a more experienced executive? Is there "mission creep" that the executive director led out of personal interest or skills that you would not want the new executive to lead? Consider whether you can/should redesign the position to help the team as a whole.
Ask your team: what are your greatest needs?
You've outlined the needs of the community you serve, but what about your team members? A resignation is a great opportunity to see what your team needs to help them perform their roles better. It's also a good way to promote shared leadership and check your instincts.
Once you've worked through these five questions, you will be better able to develop the position description that will be precisely what you need for greatest benefit.
Consider bringing in an interim to help with the transition
The client I am working with is going with an interim director for a few months — a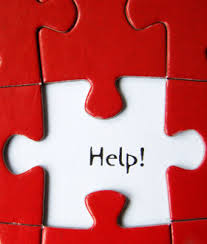 wise choice as they are in the midst of strategic planning. An experienced interim director keeps all the balls in the air. The right interim will be able to add some new networks and processes to the organization.
Despite the sting of the resignation, try to accept it as a unique opportunity, rather than a painful loss. What was working then won't work to get you to the next level. Reevaluating your needs and hiring for what you need now is a hidden opportunity in a difficult situation. When the executive director resigns, the gift is unexpected.
If you want to chat about your current situation and explore ways to help you turn this tough time into a powerful transformation, I'm here for you!